If you're here from Kickstarter to see what kind of art you might get in the mail, welcome, and check out the slide show below.
The best way to give you all the great stuff our very souls ache to pour out is if we have predictable cash flow.  As much as we love Kickstarter, we'd prefer not to put up a new funding request every time we need to go back to the well.  If you can support us with a few bucks a month, we can give you our best. And our best gets better exponentially the more predictable our lives are.
Traditionally you'd subscribe to a comic book, and we'd send you an issue every month.  There's still a length of runway and a few thousand feet of climbing before we're reliable on a monthly comic.  In the meantime, we'd love to send you something.  A thing, or things, in the mail. Monthly.  Something we can get started on quickly.
If you trust us enough to let us surprise you, go ahead and sign up below.  If you have specific ideas, tell us about it in the comments. We love stuff that's collaborative, and our subscription should steadily get more awesome with time. Should we do a four-panel strip about some of our characters?  Limited Edition prints? Send you fresh baked cookies at random?  We might actually do that.
One thing that kept this project in the oven was that it felt important to give you a story to get into- starting three monthly titles wasn't showing you that. This story hit me in response to some commentary about Shel Silverstein's book The Giving Tree. I posted about it over here.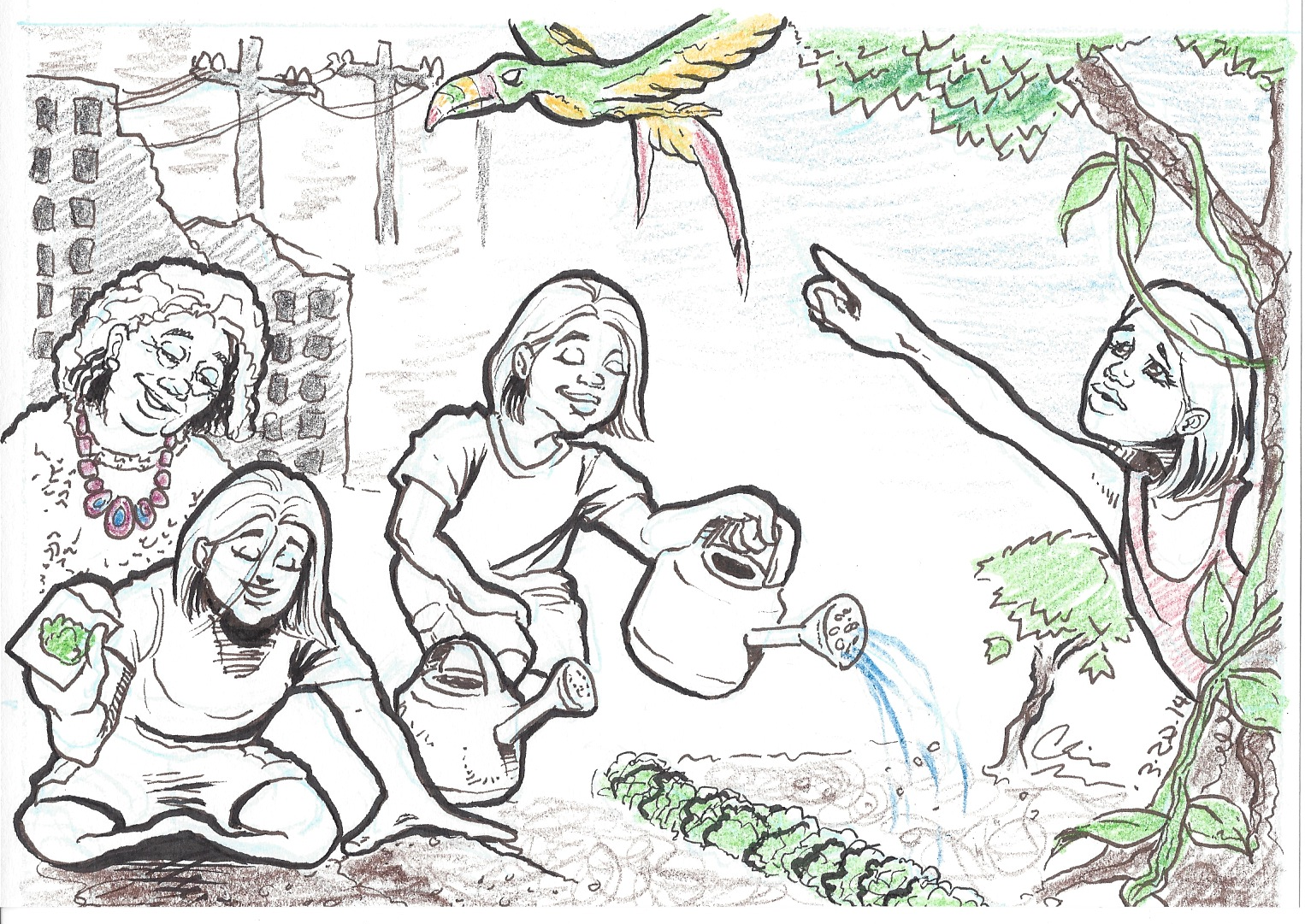 Watering the future
This is an example of a $40 donation drawing- it's a bit more elaborate, more going on…  As always, we're shooting for a similar level of effort to an amusement park caricature.  The drawings are smaller format, though.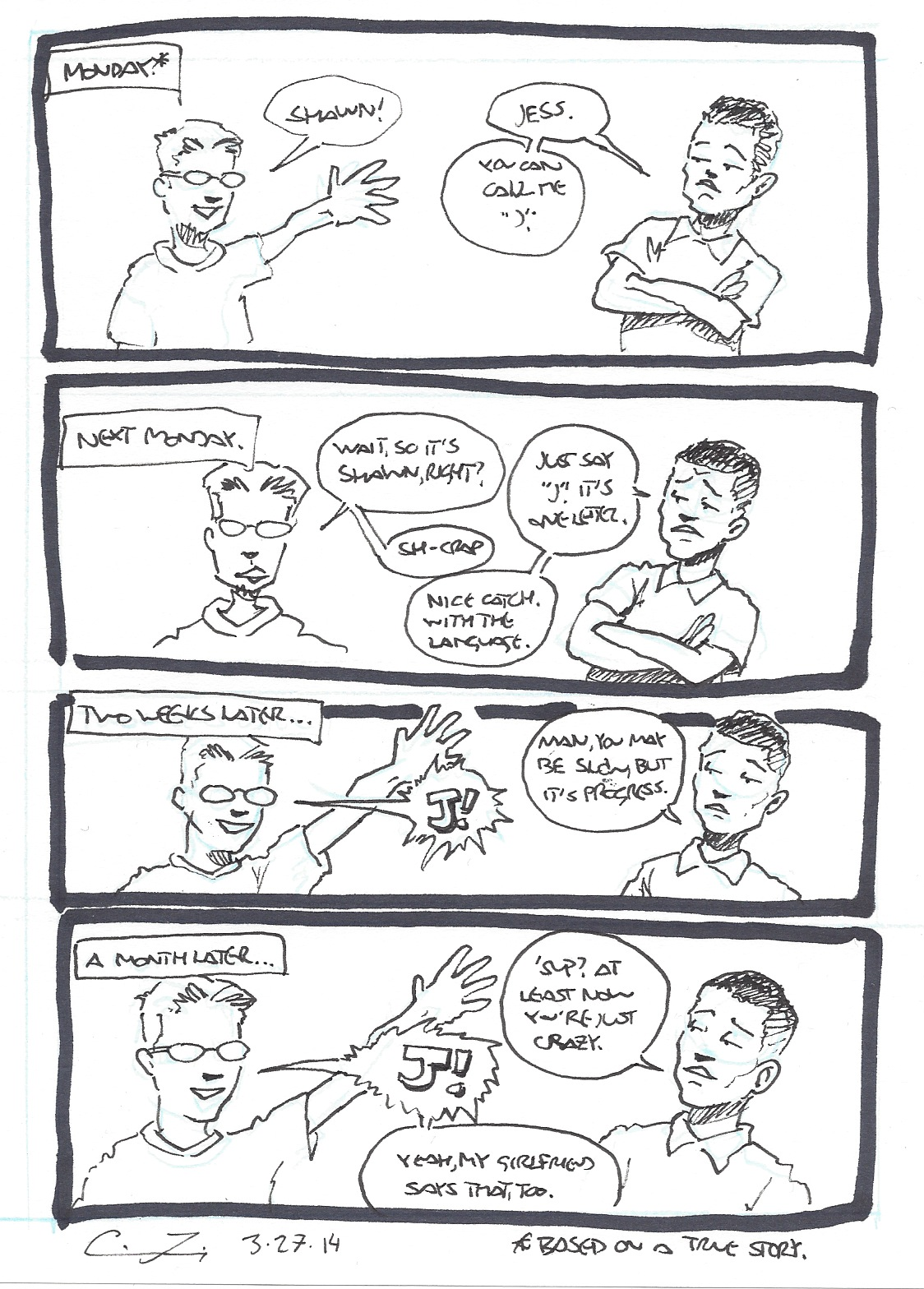 What's in a name?
Jess works with my barber, Mel, at Whitmore's International Barber Shop.  If you're in Rochester, you should absolutely get your hair cut there.  When Mel started cutting my hair, I got it stuck in my head for awhile that Jess's name was Shawn.  I'm not alone here, right?  You sometimes convince yourself that someone's name is something it's not?  It's clearly an important enough phenomenon to make comics about.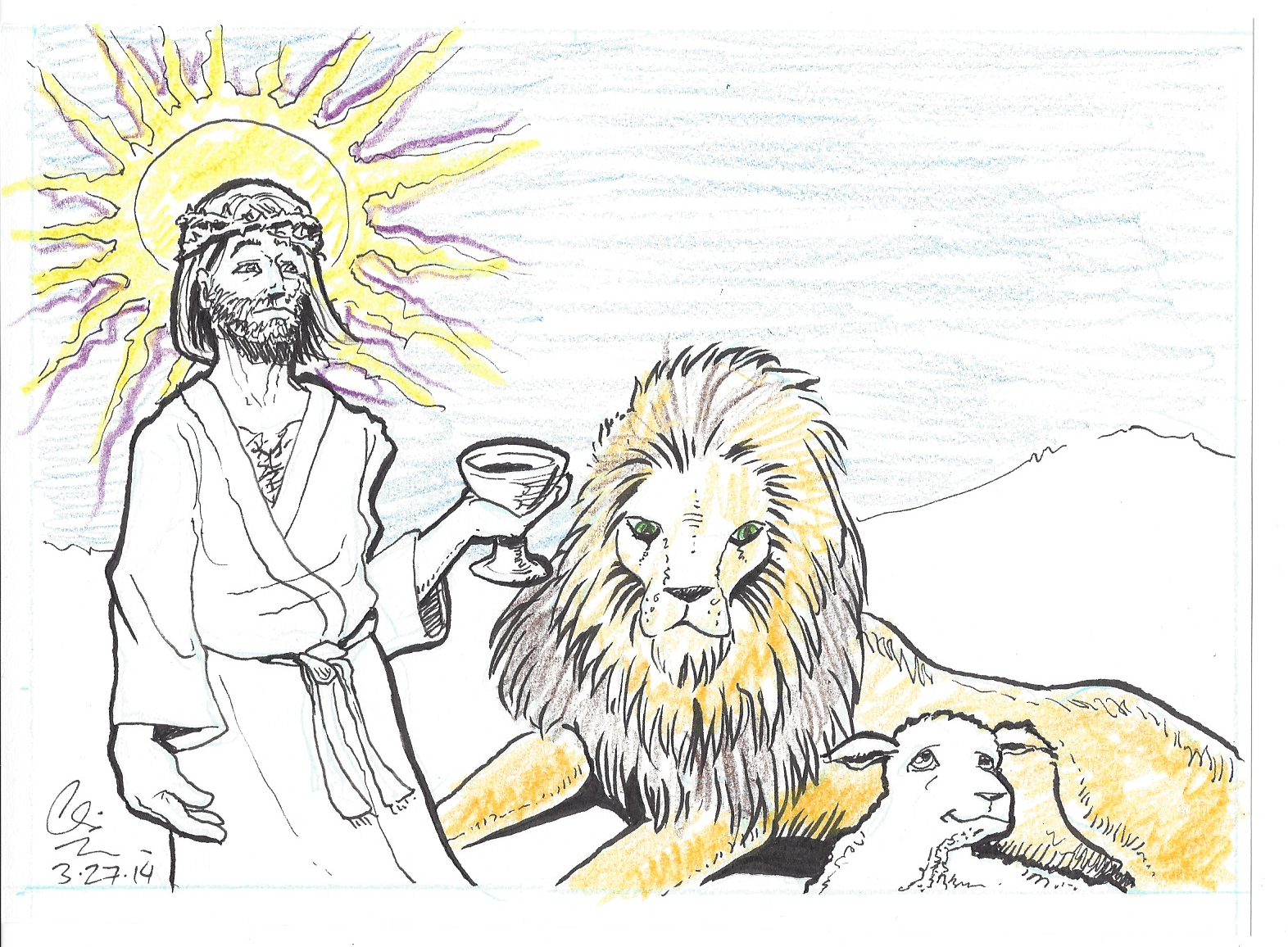 The Prince of Peace
I did warmup drawings for all the guys at Whitmore's to get a feel for what these might look like, and what they might feel like to draw.  They're big fans of Jesus, which is cool because he's an anti-Imperialist icon and he's big on being nice and non-judgmental toward each other.  Whatever name you give the spiritual plane, to use Brother Ali's phrase, being nice and non-judgmental is a strong move.  Still have a lot to learn myself.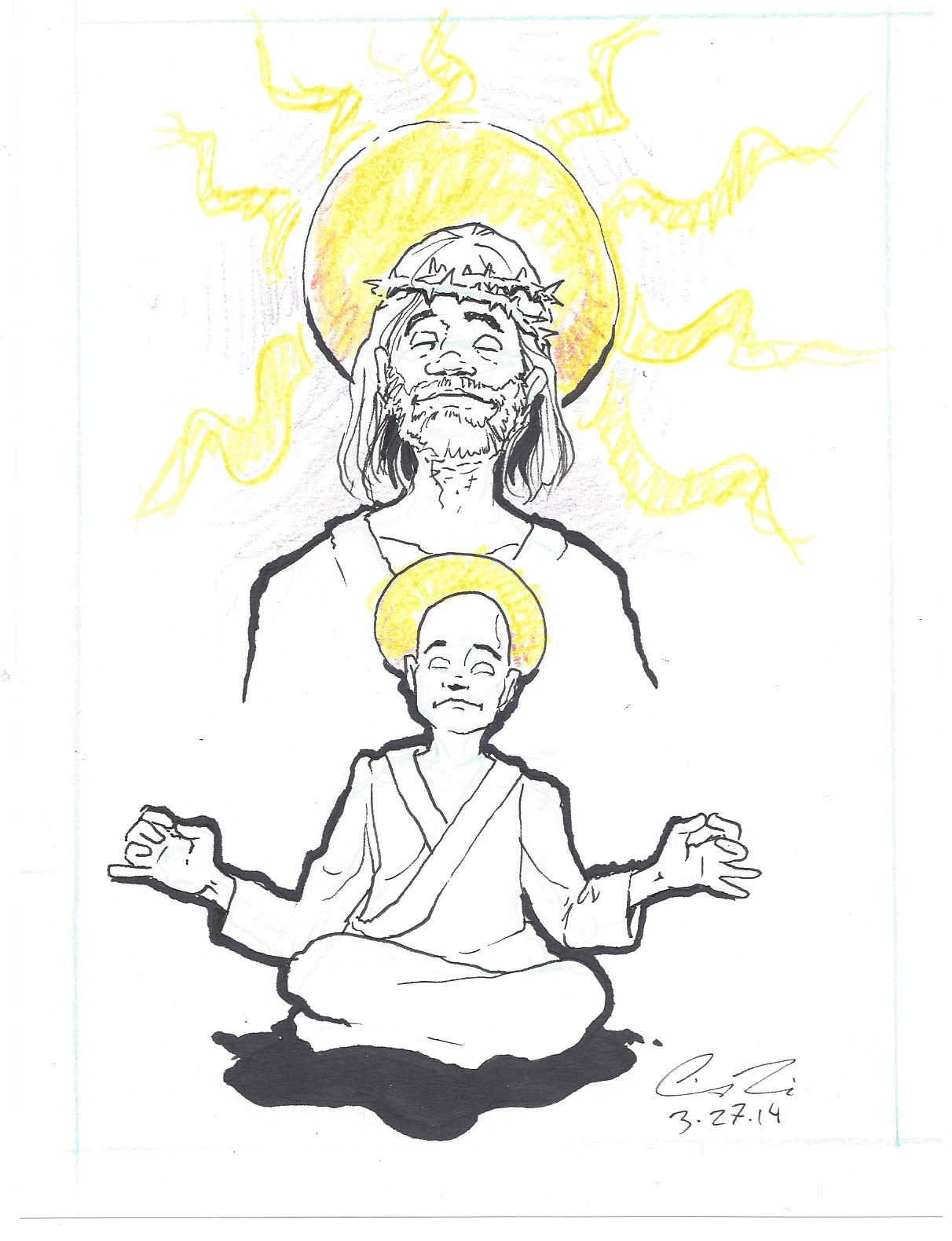 Let your light shine
Did this for Mel.  He does a great job on my hair; I try to do justice to his ideas when I draw.  This is an example of 15-20 minutes drawing time.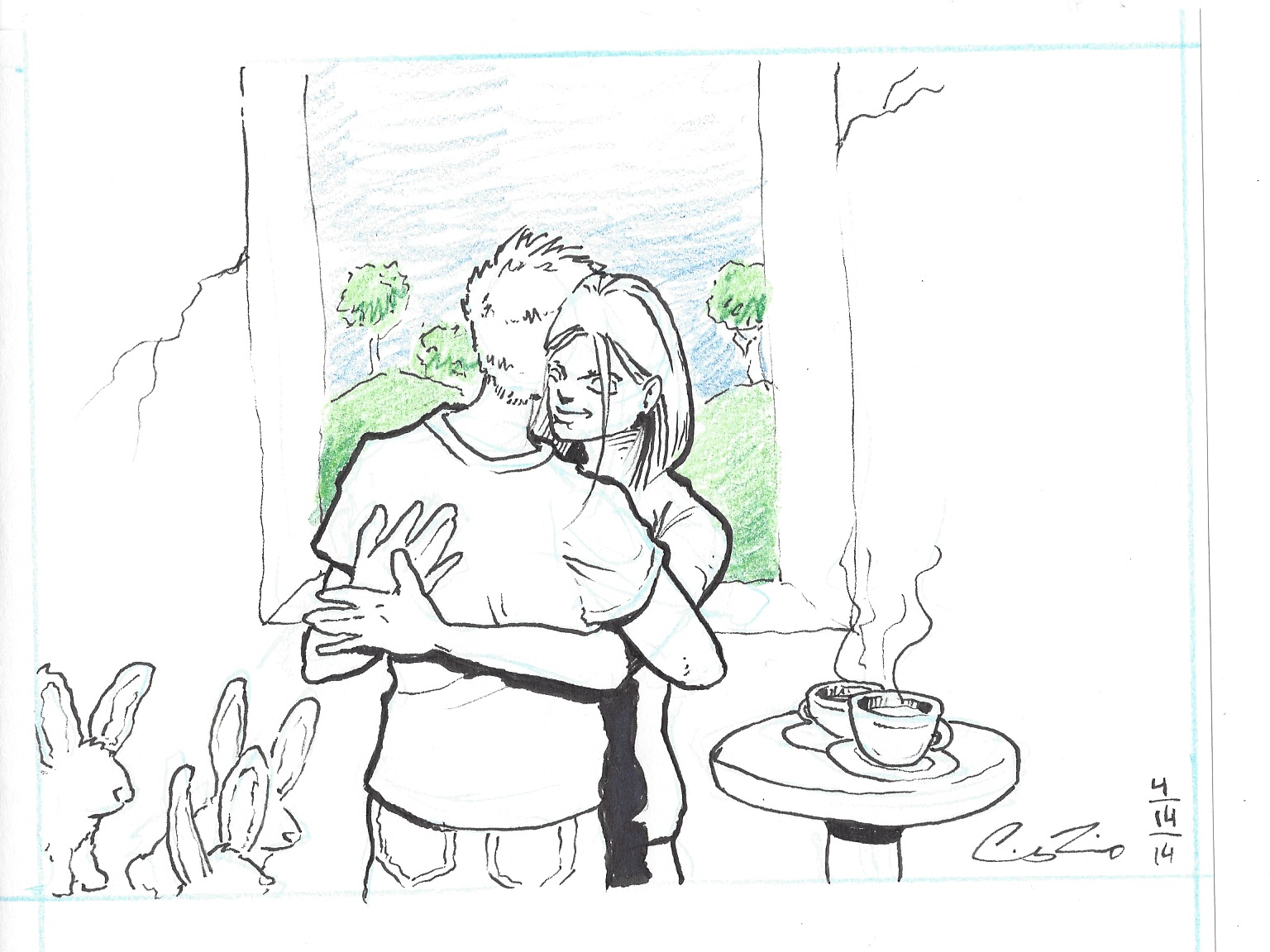 Dooty and Sandwich
Did this for my friend Paul; illustrating a moment from a short story he wrote.  It's another 15-20 minute example.
Hey, Thanks, Friend!
This is a dollar less than Netflix.
Of course, Netflix gives you access to five quizillion things for nine bucks a month.
What can we give you?
A limited edition print with an easter egg or three, for starters.
A comic book once we're up and running.
We'll figure it out as we go.
SUBSCRIBE NOW! NOW, MAN!
Seriously Heroic.
For a few more bucks, you've gotta get a little more.
Everything from the $8/mo level, plus something.
How about a postcard with a quick original drawing and a note on the back?
We could do that in a few minutes and a good time would be had by all.
Plus, we'd be supporting the awesome postcard/poster shop on Monroe Ave.
That place rocks.
CLICK! CLICK NOW!
Life Changing.
This much support is crazy.  I mean, what else do you pay $20/month for?
I pay $25/mo for unlimited car washes.  That's pretty rad.
At this level, I think we'd have to put you in line for some great surprises of some sort.
Everything from the $12 level, plus, hmmm…
I don't know yet.  It'd be wicked cool though.
YOU'RE THE BEST. NO, REALLY.