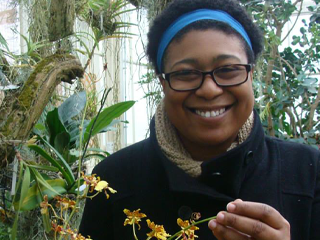 Meeka Mason
You can say that Shermeeka Mason has led an interesting existence.
Before earning her MSW from the University at Buffalo School of Social Work, she was political activist here in Rochester, New York. She was not only an active member of groups such as The Civil Rights Front and Take Back the Land Rochester, but volunteered for the International Socialist Organization.
While a student at the College at Brockport, Mason earned the NASW Student of the Month in 2011. As a CSTEP/McNair Scholar, she presented at the National Conference Undergraduate Research in Ithaca, New York, the Seneca Falls Dialogues in Seneca Falls, New York and the Ronald E. McNair Summer Research Conference in Brockport, NY
Mason is also a published writer. Her short stories and poems are published in the Lincoln Land Community College's The Harvester and a handful of articles in The Socialist Worker. She also is the author of the now retired blog "The Possible World: Life After Traumatization" on WordPress.com.
But now she is taking her talents to YouTube. She is the creator and host of the online video series "The Bonfire Talks," an hour-long program that promotes intellectual discussions on a plethora of topics.
During her free time, she is visiting Equal Grounds, getting reacquainted with friends and working on various side projects.